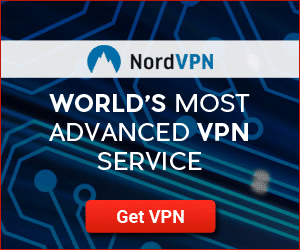 There are many reasons for using a virtual private network (VPN) to access the Internet. A personal VPN masks your unique IP address from the websites you visit by funneling your Internet traffic through a proxy server owned by the VPN provider. With a personal VPN, you can appear to be surfing from a different city or country than the one you're physically located in.
VPNs are also frequently set up by corporate IT departments as a secure way to give telecommuting employees access to information "behind the firewall."
You should consider signing up for a personal VPN service if you are concerned about:
Keeping your browsing history private from ad networks and other forms of surveillance
Protecting your personal information from "skimming" at public Wi-Fi hotspots
Accessing country specific content like Netflix, Hulu or U.S. TV channels
Special Offer for NordVPN – $69/Year
Sign Up For 1 Year To Get NordVPN for 6 Devices for $5.75/mo (normally $8/mo)
Compatible with Windows, Mac, Android and iOS Devices
---
More serious uses of VPNs include journalists and activists who rely on them for an additional layer of anonymity from prying eyes, often oppressive governments. If you're in a country that practices Internet censorship, a VPN can help you access blocked websites such as Facebook, Twitter, Google or YouTube. Even if you're in a country with the freedom of speech, you might want to avoid being tracked by overzealous corporations, particularly copyright trolls.
With blanket surveillance on the rise, a VPN is a must for anyone concerned about their privacy. You should not feel uncomfortable about asserting your right to privacy. In fact, privacy is a right guaranteed by the UN Declaration of Human Rights. Just because you have "nothing to hide" does not mean you are obligated to reveal your private affairs to casual onlookers, or even the authorities.
How to Choose a Reputable VPN Provider
Not all personal VPN services are created equal. When you choose a VPN provider, you are effectively trusting that company to protect your security and privacy. Going with an unscrupulous VPN provider who records your activities without your consent can be worse than not using a VPN at all.
What about free VPN services?
There are free VPNs, but there's always the question of "why the service is free?" There's a famous saying in the tech world: "If the product is free, you are the product." Be wary of free VPNs, because they may sell your browsing habits to marketers, or worse, your adversaries. Also, free VPNs tend to suffer from persistently high network load, causing frustrating stutters in high bandwidth applications like video chat and media streaming.
Most Important Questions to Ask Before Buying a Personal VPN
Logging – Does your personal VPN provider keep logs? If so, what do they include? 
Most servers keep logs of their users' activities, which can include IP address, searches and browsing history. Your ISP could be keeping tabs on you at this very moment. Usually, the logs are used for IT purposes, but Internet providers who keep logs can be compelled to give them up to the government.
The most private VPN providers like NordVPN, do not keep logs. The logic behind this is simple: no logs, therefore no information to hand over in a legal subpoena. Your VPN provider's policy, including what data they log, if any, can usually be found in their Terms of Service.
Company Location – Where is your personal VPN provider legally located? 
Some countries, particularly in the EU, have mandatory data retention laws which require ISPs (including VPN providers) to keep logs about their users. That's why VPN providers like NordVPN are incorporated in the Republic of Panama, a jurisdiction with no mandatory data retention laws.
Surprisingly, the US is not one of the countries with a mandatory data retention law, despite attempts to pass such a law in Congress. There are reputable VPN providers, like Private Internet Access, who operate out of the US.
Server Location and Performance – How many servers does your personal VPN provider maintain for each geographical location?
If you want to get a VPN to watch movies and TV shows that are restricted to a certain country, such as the U.S or the U.K., make sure the VPN provider you are going with has enough servers to handle the load from their users connecting to that country. Remember when using a VPN, the VPN's IP address, including its registered country takes the place of your own.
NordVPN operates over 567 servers in 49 different countries. With a single subscription, premium VPN services like NordVPN will give you access to dozens of servers in the most popular countries. This helps relieve congestion during peak times.
Generally, tunneling your traffic through a VPN will degrade your Internet speed slightly. With NordVPN, the performance was so good we were able to surf at 30 Mbps, the maximum speed of our Internet connection, even while connected to VPN.
Allowed Services – Does your personal VPN provider throttle or block any ports? 
NordVPN allows P2P downloading on their non-U.S. servers, including BitTorrent. Their client includes a "kill switch" feature which can be used to stop your BitTorrent client if your VPN connection disconnects, maintaining your privacy.
Some VPN providers do not allow certain services, especially P2P applications like BitTorrent. If you plan to torrent using your personal VPN, ensure that those ports are not throttled or blocked by your VPN provider.
Payment Methods
NordVPN accepts credit cards, PayPal, Bitcoin or Paymentwall.
Most VPN providers will accept PayPal and major credit cards, at a minimum. If you require extra discretion, look for a VPN provider that accepts anonymous payment methods like Bitcoin. If you don't have access to Bitcoins, another anonymous way to purchase VPN service is via a prepaid credit card.
Price
A decent VPN service needn't be expensive. The going rate seems to be under $10/month for services like Private Internet Access, BTGuard or NordVPN.
NordVPN paid monthly, costs $8/month, allowing you to connect up to 6 devices including your PC, Mac, Android or iOS devices. The bandwidth is unlimited. To save even more, you can go for their bi-annual or annual plans, costing $7/month or $5.75/month respectively. For just $69/year, you can protect all of your devices and even share the plan with a friend or family member.
Disclosure: Top Tech Picks receives compensation for NordVPN signups from our website.
Summary
Author Rating
Brand Name
Product Name